Saiwheels
---
"Care is not about teaching or preaching, it is about reaching people." - Sri Sathya Sai Baba
Inspired by Swami's message, SAIWHEELS (Societal Advancement and Improvement by Water Healthcare Educare Energy Love and Service) is the next evolutionary step in village service projects: it is the world's first custom designed bus to provide free healthcare, education, and clean drinking water to village communities using solar power.
Conceived at the June 2015 Science for Society Conference held in San Diego, this bus was completed in just 6 months and inaugurated at Swami's 90th birthday in Muddenahalli!
The bus has facilities to provide:
Clean Water: UV & Nano water filtration system that can provide ~20L of pure drinking water per villager, enough to last 1-2 weeks
Healthcare: A mobile clinic with diagnostic equipment, dry chemistry lab, dental treatment, and basic pharmacy.
Educare: Equipped with a computer lab with internet connectivity, a library, a Smart TV and projector, the mobile classroom also provides a wealth of information on health and nutrition for children and expectant mothers.
Energy: powered by 9 rooftop solar panels
Love and Service: through the loving and compassionate service of our doctors, teachers, assistants and driver!
We make routine, periodic trips to our adopted villages periodically thus making it a successful program.
Truly this is one of a kind bus that will soon be replicated in many countries like Brazil, Fiji, US, Mexico and several countries in Africa.
Is your heart saying yes ?

Serve your community. Purify your heart.

Experience the joy of giving


Join Us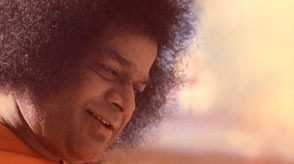 Where there is 'I', there is no Sai;
wherever there is Sai, there is no 'I'.
- Baba